12/22/2007
A great surprise for the end of the year
2007 - December, 15th - Today has been a day of surprises and emotions, Maria has given us the task of take all kindergarten children (children whose ages are between 4 and 5 years old) to the Fast Food (Fridays) in downtown! Two vans full of children, teachers and a doctor following them (trying to control children sickness who are not used to travel by car, so when they get in one ...).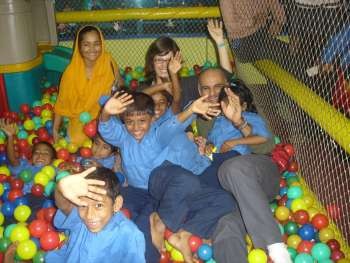 The kids could hardly believe it. Firstly the excitement for traveling by car, then going and seeing the city (for most of them it was the first time) and finally arriving in a restaurant with an available playground, swings, kiddie slides, little playing houses, ball pits, etc. All things that might be usual to our children, but never dreamed by these Dhaka children. We didn't know who were feeling more excitement, the children or the adults, all playing crazily for hours!
During a play break they had a special lunch: fried chicken with chips and ketchup. All new to them - but a child is a child and they fast surrender to the pleasure - as any child in the world - of tasting a chip with ketchup !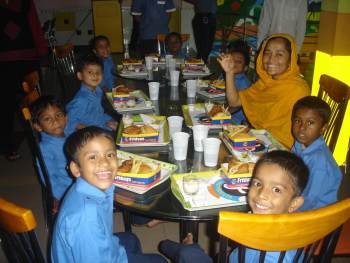 We returned to The Dhaka Project premises around 3 PM, with a few kids feeling sick. As we got out of the vans Maria called us to go to the primary school. When we got there... we opened our mouths incredibly amazed!
They had prepared an end of year party. This had been the last school day of the year, now the IDE holidays have began. And Maria only got to know about this in morning before leaving to Fast Food, she had been informed that this holiday time would only begin on 20th, but as she never thinks twice and makes the things happen, immediately she decided to make a great party in this day, and not having told nothing about it to be a surprise to us.
As always, spite of having been performed in short time all was perfect, a big tent was being set up in the playground, the children were all aligned, girls had had make-ups being still prettier than ever and some children showing big posters with some says (We love Maria; We love our Teachers; Hip Hip Hurra; Sufia and Victor we'll miss you... etc). I don't know if you can imagine the emotion we felt, of having 200 children in front of us crying our names!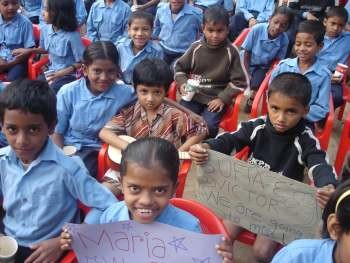 There was still missing a small thing to begin the party, the commercial power! There was a power cut in this city zone, that lasted for several hours (it's normal in Dhaka, almost everyday they have power cuts that could last from 1 to 12 hours.. i.e., there no lights in classrooms, no computers, email... and the worst, no water! It's not easy to work like this!). But we are in Bangladesh and here everything has a solution. Maria worked the problem out by inserting batteries in the player, connected this to a megaphone from old times, but worked !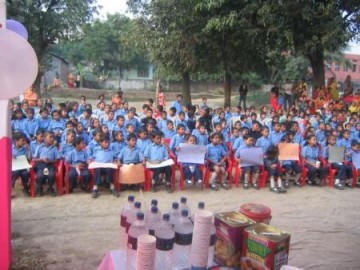 The presentations began. Firstly a few Qur'an verses have been recited ( and the first gaffe, with Vítor and Sofia handclaps at the end... this hadn't been supposed to happen...) Then there were diverse role plays, songs, dances, some magic, performed by students and teachers.
There has been still time for a brilliant Macarena performance by Vítor, Maria and Sofia. During the show biscuits and candies have been offered to all children. The mosquitoes have also had their snack, when the evening begins here, they attack... but in this place mosquitoes look like bees, and there is no enough repellent to fight them! Killing them with insecticide? We would need to kill them with a hunt gun! It would be more efficient! :)
Meanwhile the party was spreading to families and local community who were arriving and staying to watch the show.
It ended with the appearance of a group doing awareness against AIDS, who took the advantage of having the community grouped to distribute some booklets and give some information about AIDS.
At the end we felt great emotion with all the children coming to say goodbye one by one, saying tender words, hugs, kisses, drawings and asking for a promise that one day we would come back.
Emotional and physically tired up we went back to the Guest House... and then one more surprise! Maria had organized a big farewell dinner with all Dhaka Project staff... teachers, administration team, security team, rickshaw drivers, etc. All dressing their best suits, the women, prettiest, wearing traditional clothes. Vítor and Sofia seemed to be the poor relatives, in their old and dirty clothes... So, 28 people in 3 minibuses (9 people in a van of 7) set off singing and dancing local songs. We hadn't rested but the joy was fascinating and contagious... all full of energy and even more excited than the kids during the morning.
We had dinner in a good restaurant, for most of them it was the first time, initially they felt a little shy not knowing how to behave, but rapid and diplomatically Maria gave the necessary tips and a few minutes later all were more comfortable. During the dinner, Maria told many jokes making all people feel completely familiar and all of us went to the restaurant disco. All danced, jumped and sang until midnight. The alcohol isn't allowed in Bangladesh, but I assure you that it wasn't needed a single drop to make us totally uninhibited. The sisha (local water pipe) is the only allowed extravagance, it's based on fruits and is not harmful to health.
Men danced with men, women danced with women as traditional. But at the end all of us danced together, breaking the social rules a little for satisfaction of all!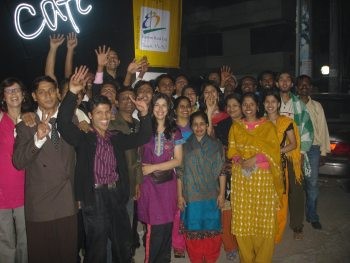 As usual in this type of party, they didn't seem wishing to finish any more! Sofia, Maria and Vítor were all very much tired while the rest of the team was completely fresh, jumping!
We turned back feeling the same happiness we had when we initiated the programme...
Getting up tomorrow will be hard...