01/02/2008
Happy New Year in Dhaka
I believe the 1st day of the year 2008 will stay in my mind for ages. Finally I managed to get some days off from the office in Dubai but the decision has been made on the 31st at 3pm. Just the time to call Maria and to check when we could fly together. The night flight was fully booked so we decided to get the next one, at 1:15pm.
I almost forgot it was the New Year's Eve as I was thrilled to finally go the Dhaka. I have been heavily involved in the last week and even if I think I understood the philosophy and the strategy of the Project, I knew I had to go there, quickly in order to check if Dhaka and myself, we were clicking.
I spent midnight on the New Year's Eve with 2 friends, watching the amazing fireworks displayed in front of the Jumeirah hotels. While I was watching the 13 minutes unforgettable fire show, (bravo Francois ;-))I could not stop imagine what was happening at the same time in Dhaka. The Project staff was organizing a party that we could not attend on time. I went to bed early, a little bit concern not to forget anything.
I went previously in the afternoon to do some special shopping. While people were loading their trolleys with food and last minute goods, mine was full of special order from Maria…. Diapers and sanitizer (hand wash liquid used without water).
So I came back home after the firework, not too late as I wanted to be "fresh" for our departure. Pfff I could not sleep before 3am, as I could not stop thinking about the Project.
Maria sent me a sms at 5am telling me just finished to pack and that we had to find 2 big taxis in order to load 6 huge boxes… Mmm first challenge of the year ;-)
I went early morning to this place in Dubai where Pakistani are renting their small trucks and services. We managed to pick up Maria with the boxes and went to the airport. As a flight attendant, she knows the tricks so we unloaded the colorful truck in place of the Limousines reserved for the Business Class and went inside with our 11 luggage.
Then came the first bad news… 71 kilos overweight…NOT ME! Our luggage… and Maria who told me when we left the storage room.. But we did not take anything!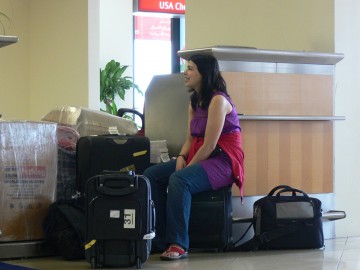 Nothing to do to convince the Desk guy for Emirates. He was really nice but rules are rules and "ladies I have to follow the rules…" Ok, ok, I tried (not really convincing I admit) to ask a passenger to put at least 1 box on his ticket but he was going to London… Thank you very much Sir but…
We had to pay the extra luggage promising ourselves that we will need to find a way to avoid those kinds of problems in the future.
After 4 hours of flight we arrived at the airport, getting very quickly organized in order to pass the custom the first ones… then we managed to get the luggage without anything missing and in a good timing. No problem either to pass the custom as a man helped us (we had 4 trolleys full) and when the officer stopped us the guy just said (that's what he told us ;-)) "NGO, just old stuff for the kids my friend" et HOP! We went through.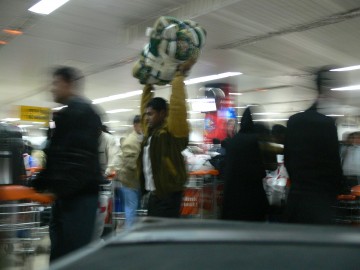 There, what a surprise… around 10 kids were waiting for us with one part of the staff with banners and balloons painted with our names. I was amazed. The kids around 10 years old were wearing blue navy clothes like uniforms. They were all saying together.. Welcome Florence… Welcome Maria!
Each one gave me his or her name (I will need more time to remember all of them) and I told them to call me FLO (It made them laugh a lot)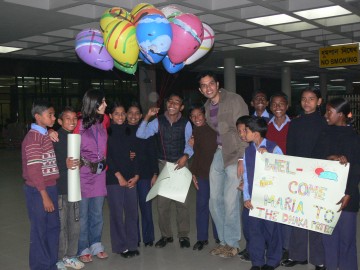 Then we jumped in 2 minvans and went up to the project. Just crossing the area full of rickshaws, small shops and talls gave me an idea of the atmosphere. I liked the smell with a mix a spices and smoke.
We reached our house, in the heart of the community. The Project has an apartment with 2 bedrooms. It's all painted in green (colour of hope ;-)) There is the girls bedroom and the boys bedroom. The kitchen has the basic and only necessary apparels and the cupboards are full of pasta, pasta and pasta…
The only thing missing but Firoz will fix it today, is a water heater and that's one of my gift to the guest house. Too hard to only have cold showers… I believe ;-)
After having our pasta, we went to Mitu's house in the neighbourhood. Mitu is one of the teacher. Oh my god, she prepared a full dinner but we had to decline. How ashamed we were but we explained that it was not because of the food, but our system is not accustomed to it. I would love to try their food but that's the best way, at least now to spend my stay between the bathroom and my bed...
We came back home and could not stop chating for 3 hours. In the same room, 2 european ladies and a Bangladeshi, we had so many things to share!
Good night