02/08/2008
That's what we are fighting for
Bangladesh is a flat country except couple of mountains in the north. Because of the lack of mountains, the construction companies cannot extract rocks to make the cement. So they make bricks with mud, dry them, then break them is small pieces. Next to our new school this afternoon I could hear the sound of couple of hammers breaking those bricks.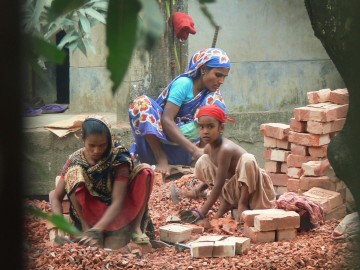 But that's women and children who are most of the time doing this hard job. That's what we are fighting at TDP. To give a childhood to those kids, to give them the right to go to school and play with their friends.
Yes TDP is doing a great job but there is still so much to do and we cannot fight the cycle of poverty without you!