01/05/2008
3rd of January 2008
I woke up this morning tired and not feeling so well. Maria told me that it was normal.. Ok, so I will manage. Then I spent, I think, at least for the moment, the most crazy day in my life. I can tell you that there is a huge difference between dreaming to be a volunteer and being one.

We left the house with a list of tasks and especially the one to find fabric for the uniforms. Bad start! Just after leaving the house our rickshaw had a fight with another one and they started to punch each other. I told Jowel who was my "assistant" for the day to get out of the rickshaw and then we went by walk.
We found a Tuk Tuk but it was not a good idea. The pollution is at a so high level that being in open air can make you sick easily especially if you already feel nauseous…
We managed to get to the Sheraton where we had to meet Mourad and his cousin who had the task to bring us in the wholesale area of Dhaka…. We MUST find the best deals each time as 1 dirham saved here (20 taka) makes a big difference.
As a first time here I felt struggling with our local contacts supposed to help us. On one hand we need them as we don't speak the language and we think that they will be helpful. BUT on the other hand, they make us waste a tremendous amount of time. We are not living here and each trip is a too short period of time so when they offer us to have a tea, a coffee or when they tell us to relax, to take it easy, I understand now why we can easily "burn a fuse".
Like that, I lost 2 precious hours as not knowing the city, our "business Guide" took us to some shops to show us samples that I did not need etc…. I really had to keep my self control as I believe it's a waste of energy to get upset even if… Arghhhhhh ;-)) Anyway! We changed the car and the driver and FINALLY we arrived in the wholesale area.
Another shock. So crowded, so noisy and smelly and I will avoid telling you the symptoms of poverty and misery. Everything you could imagine (or not even) as handicaps, illness you will find here not even mentioning constant people begging for 1 taka or food from children to old ladies and men.

We entered the fabric market and spent 2 hours trying to find what we were looking for. Finally we found our fabric for the trousers but not the shirts. We close the deal, taking a sample, signing the sample, leaving a deposit and deciding to come back Saturday to pay the full amount and arrange the delivery. (we were ordering not less than 4000 yards). I realized it was already 2pm and we did not have lunch. I was ok but I could feel that the guy with us was starting to slow down and he told me he was already starving. Sorry guys but not time for lunch. Grab a snack if you want but I still have to find carpets and heaters for the nursery. We took the car and left the place. I was really happy at least to have found this fabric. On our way to the carpets, our guide received a call from the fabric shop. The sample he gave us could not be delivered but "don't worry we have the same quality" so no worries. Oh my god. I saw the red light and our guide told me that it's the reason why he signed the sample. Otherwise those guys would have delivered the other quality, just fooling us...

So we came back to the shop and the guy started to explain and show us on a small sample that it was the same quality. I asked him to show me the full roll of fabric and he did not want. Of course! On the big piece I could prove him the quality was not the same…. I looked around and found the one I wanted, I went there, took it myself and put it in front of him. "And you really think it's the same quality? You are fooling me". He was not even looking at me… I said ok, I take the new one but 10 taka less than the previous one. He told me NO, same price… or 1 taka less… You must be joking. I was so upset. As it was impossible to discuss, I asked to be refund of the deposit and we left.

I went through a kind of internal nervous break down as I have been thinking "what am I doing here?" How can people fool us when we are coming from the other part of the people to help them and their families. I will never be able to do it. It's not possible, it's too hard.

In the middle of this mess, I had to find in my mind something to help me to support it. And it became evident. The smile and the joy of the children. Yes, in all this shit and painful environment we just need to visualize their smile and it cheers you up.

After we left the market, our "guide" told us he had some family problems and he could not stay with us.... Of course, everybody is abandoning us, noone gives a s....!
Thanks to Jowel. He saw how down I was and he told me. Dont worry Flo, we get the carpets then the heaters and we will go by taxi. We dont need anybody. YES! We can do it!!!

While reaching the other area, the phone rang...... the guy from the fabric shop.... Finally he found our quality and could deliver it thursday.... Oh my god! it has been a ray of sun in my brain. Just like if I needed that to give me hope again. We ended our trip with our "shopping" and came back to the project. I was so exhausted and shocked by this hard day that I could not talk.

I only wanted to see Maria and ask her how she could manage those things. How she could keep going when it is so easy just to fly back to our luxury life in Dubai. I came home amd sat on the bed. I just needed to take out of my brain the pain of the day and the negative emotions I was dealing with.
We had a talk and she told me she had the same "trick" when she was loosing face. Thibnking of the kids! It made me feel better. Then a couple (the one waiting to a good level of english to move to Dubai as Maria found them a job) came with Rahim and Rahima. The sister and brother. We discussed for a while then the kids wanted to stay with us. That's part of our life. Sometimes kids come to our place and spend some time with us. They play, they dance, they watch cartoons and they sleep here.

Two more kids joined us and Maria was right. It just changed my mood in 5 minutes. How can you stay moody when 3 kids are jumping on you, kissing you, hugging you. Look at Mehdi's and Rahima's smiles, look at their eyes!!!!!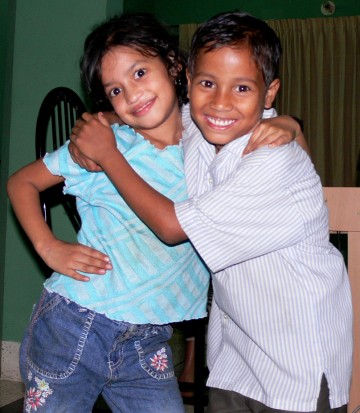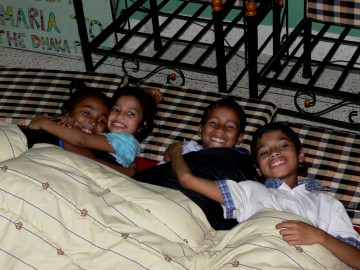 I went to bed less anxious especially when I saw them falling asleep so peacefully