01/05/2008
Noosh in Dhaka
2nd January 2008

Upon arrival in Hong Kong my anxiety started to get a hold of me. What was to be expected in Dhaka? A friend in Hong Kong fed me negative information about Dhaka, leaving me quite anxious by the time my flight left.
Arriving in Dhaka gave me a first fabulous impression. A truly friendly Bangla employee of the airline collected me from customs and helped me clear customs, get my luggage and delivered me to the very warm and loving person Maria, who came to get me from the airport well after midnight.

After a first night at the Skyline Hotel, it was time to meet the Dhaka Project, at last. A moment I had been looking forward to. My expectations were based on my volunteer experience in Nepal. There sources were minimum and the situation in which the children were housed and educated were of a bare minimum standard. Thus I expected to find something similar. At noon Maria took me to the Project. We walked over from the guesthouse through narrow, very well maintained and clean paths with garbage bins on the side of the lane. Maria pointed these out to me and told me the Project had provided the bins and educated the community. Quite a task I bet, but it has a great result. The area looks nice and clean.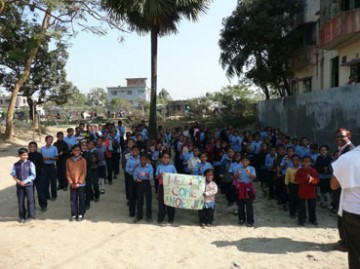 When we reached the school, to my great astonishment I was met by a group of nearly 200 children chanting a 'Welcome Anoesjka' with the biggest smiles on their faces. My heart melted instantly!

Before I new it children were hugging me, grabbing my hand and giving me the warmest smiles I have seen in my life.

After this great welcome, I was taken through the school and again, I was astound at what I found. A well maintained school building with nice little table/chairs in 6 classrooms downstairs, all in fresh paint. Upstairs my amazement grew as I was shown the learning department for parents of the children in the project, empowering especially the women by teaching them the skills needed to generate income in the garment industry.

So good to see that it is not only the children who are given a solid opportunity for the future, but also their families. On the other side of the building I was shown the training centre for the beautician industry.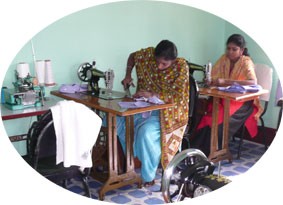 Girls here learn the skills of manicure, pedicure and beauty treatments. Another sector that is good for employment on a local basis and provides opportunity for the future tourism industry.

Not only does the project educate, Maria also takes care of the children's health with an on site doctor, who works from a fully equipped clinic in the school/project building. A stack of vaccine passports for all the children showed the vaccination programme all the children are on, the personal record cards keep track of their health. Next door a fully equipped dentist makes sure that the children's teeth are kept in good condition.

Having seen the project's primary education centre, I was now introduced to the staff, which has just been expanded with a highly skilled and educated Bangla volunteer, who is now in charge of changing the school curriculum from Bangla to International standards, allowing the children enrolled an even better chance for the future.

What a fantastic first impression. As if that wasn't enough, I was overwhelmed by emotions once again upon meeting the pre-school children and the toddlers in the day-care centre. Again a storm of smiles, giggles, hugs and kisses was blown over me, leaving me dazzled with love and respect.
Looking at these kids, the way they are taken care of, the toys surrounding them, the sparkling eyes and clean faces and bodies, it was hard to imagine that I am actually in one of the world's poorest countries. The children I had worked with in Nepal were covered in sores when I first arrived and were allowed a bath only once a week, wearing their clothes for a full week. Here the kids look nice and clean, well taken care of and in great health.
All this would have been impossible without the work of the Project.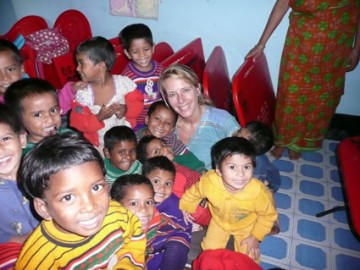 What an achievement! I am in awe, and will be much more so when I learn what it takes to get there….
Friday 3 January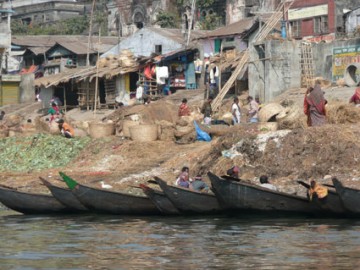 Today is a day off. One of Maria's staff, Sufiyan, is tasked to take me to see the 'old city' of Dhaka today. We drive off to the Sadargot harbour, which is like a bus station on the river. Hundreds of little and big passenger boats move to and from the mourning points or sit and wait for their passengers to arrive.
It is a hectic place where the poverty of the country is very visible. Dirt and garbage everywhere, people in dirty and very simple rags of clothes, life on the streets surrounding the harbour is as can be expected in a country as poor as Bangladesh.
After a day of sightseeing and getting a good impression of the city and its different neighbourhoods, which rank from the slums at the bottom end to a very classy embassy area in Gulshan, with wide lanes, beautiful colonial buildings and lots of nice green trees and gardens. Once you leave this small area of richess though, you are right back in the reality of Dhaka, with its super hectic traffic with its inevitable choking pollution, gazillion rickshaws and tuk-tuks, colourful women with beautiful smiles and men dressed in longis trading and producing all sorts of produce from little shophouses that line the streets.
Once back in the guesthouse, I am beat and ready for a nap. No one is home, so I get to stretch out, do some study work and reflect on the first 2 days in Dhaka. Nothing shocking so far, impressive yes, beautiful too, poor yes but with that typical Asian dignity, a massive suffering carried with pride.
During the day I have been hassling Sufiyan to tell me about his country, its education system, the marriage arrangements, family life and customs. It becomes apparent that education is very basic in the public schooling system, with a very high percentage of fall-out due to the poverty. Marriages are still 90+% arranged by parents, making sure kids stay within their 'social class', however the kids do have choice between the marriage candidates presented to them. Family is a very key component of life. Whatever the parents decide, a child has to follow, regardless the age. Even adults must respect the parent's wishes regarding their activities, involvements and employment. So if a parent says no, the (adult) child must follow suit. Tough, especially if a local adult wishes to enrol in a charity project, working with the bottom end of society. Not a posh thing to do for local high classers. But a primary necessity for a charity organisation that focuses on educating the poorest. Imagine a situation where you have slaved yourself through life in order to allow your children to go school and university and than your child chooses to spend precious time working as a volunteer for the poorest people of your city. Noble, but at the same time not done for many of those parents who gave so much of their lives in order to enable their children access to high income employment, safeguarding the old age of the parents and a better life for the next generation(s). Now that is the culture in which Maria finds the great challenge of sourcing and contracting educated staff.
Anoesjka Timmermans